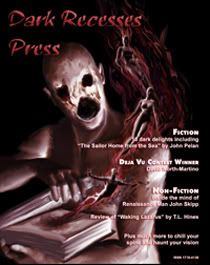 FINAL DAYS FOR YOUR FREE PDF COPY!


You'll still find
Dark Recesses Issue 4
at Shocklines.com in high rez CD-Rom, but if you want a free PDF download, you'll need to hurry - Issue 5 will be taking its place on October 1st.
Great dark fiction and an arse kickin' interview with bestselling author, John Skipp.
Download it NOW!
Save it to read when you're looking for a little fun on the darkside. Happy Reading! *grinz*
Wickedly Yours,
Fran Friel