As promised, I'm preparing the loot for another enticing contest to support our beloved
Shocklines.com
, but while I'm gathering the goods, you might want to stop in and visit with the dark lovelies at
Hadesgate Publications
. Not only are they publishing fantastic books by a gifted cabal of authors like
Garry Charles
,
Barry J. House
,
CJ Lines
,
Steve Dean
and
Steve Deighan
, but they're producing a rockin' newsletter.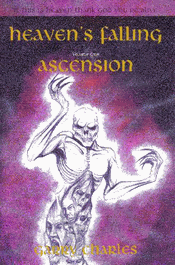 The Hadesgate Forums Newsletter
is one of the most entertaining I've ever read. It's chocked full wit, spicy bits of entertaining news, interviews, stories and friendly contests. This month you'll find interviews with screenwriter/author,
Stephen Romano
; UK director
Johannes Roberts
; and master of UK horror,
Shaun Hutson
. Also included is short fiction by Stephen Romano,
CJ Lines and
Darrell Joyce
.
If that's not enough to entice you, there's a little Friel highlight stuck in there for fun. So be sure to have a visit and a great read at the
Hadesgate Forums Newsletter
. The very talented Ray Wilson has put together another doosie for us, and it FREE!
Enjoy!
Wickedly Yours,
Fran Friel
PS - Stay tuned for the next contest to support
Shocklines.com
!