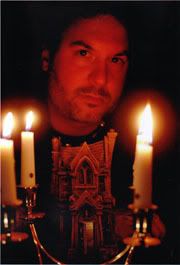 John Everson
, Bram Stoker Award winning author, is a busy man. If you take a look at his
MySpace page
or
his website
, you'll see that he's not only writing his pants off, but John is an artist and a musician, as well. He's also a really nice guy.
In John's newsletter,
John Everson Dark Arts
, I recently found a link to one his stories,
"Christmas the Hard Way."
I enjoyed the story so much that I asked permission to post the link just to make sure you all have a chance to read it, too. It's a lovely holiday tale for all ages, one mixed with a little white magic and lots of good holiday cheer.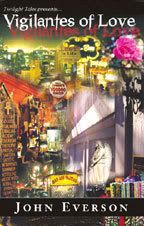 So when you have a lull in your holiday busy-ness, stop by and have a read of
"Christmas the Hard Way."
It'll warm your dark cockles and get you ready for the spirit of the season. And if you want even more Everson for your holidays, check-out the story collection where "Christmas the Hard Way" first appeared,
VIGILANTES OF LOVE
. John has an excellent special offer on the collection that would tempt even the stingiest Scrooge. Check it out
HERE
.
Enjoy!
Wickedly Yours,
Fran Friel