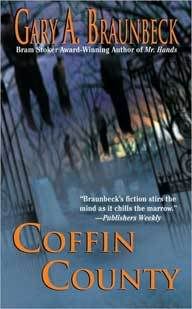 FREE Braunbeck
Five-time Bram Stoker Award winner author,
Gary Braunbeck
, has a treat for you--
a FREE three part story posted at Horror World
. The only thing is that it will disappear from the website August 1st! So pop on over to
HorrorWorld.org
and read Gary's story,
"In Seeing: a story of Cedar Hill
." Like Gary's latest novel,
Coffin County
, "In Seeing" is from his fabulous Cedar Hill series. Don't miss it!
Font Conference
Yes, let it be known, I'm a total geek, but I loved this vid. I thought you might like it, too...but you don't have to be a geek to enjoy it...I don't think. ;-)
Have a great week!
Wickedly Yours,
Fran Friel