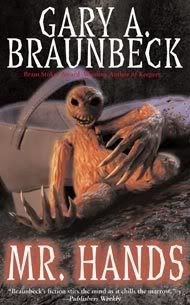 Mr. Braunbeck Does It Again!
Gary Braunbeck's
writing grabs you by the heart and the scruff of the neck and drags you down into his world with aching intimacy and wrenching horror. His disarming humor makes the ride even more treacherous. Just when you think it's safe to giggle...BAMM!
Looks like
Mr. Hands
, from
Dorchester/Leisure
is no exception.
Check-out Gary's book trailer.
It left me with my shoulders up around my ears and that feeling of GAH! in my throat!
If you're just discovering Gary's work, you're in for a treat! Not only is he a master writer, he's one of THE nicest guys in the business. Run, do not walk, to
Gary's Bibliography
and pick out something "nice" for yourself. You deserve some good Braunabeck today!
I just received my copy of Gary's novella,
Smiling Faces Sometimes
. Publisher and artist,
Keith Minnion
, did his usual brilliant job, making this one gorgeous little illustrated book, and I can't wait to get to the juicy Braunbeck insides. Yumm!
Rhode Island Bound
Well, that's it for me today, kids. I've got a loomer of a deadline and
Necon
(Northeastern Writers' Conference) right around the corner, which means I won't see you next weekend. I'll be sleeping with the fishes (Team Koi) and partying with the sweetest and best-est writers in the business. I wish you could ALL be there with us for what I consider summer camp for horror writers. Heaven knows I could use the break from moving boxes and renovations. Rhode Island, here I come!
Wickedly Yours,
Fran Friel