There's No Emerald City Here, Dorothy!
That's right! Dorothy and Toto thought the Wicked Witch of the West was scary, but she never met the dudes and dudettes from
OZ HorrorScope
, The Australian Dark Fiction Web Log. Managing Editor,
Shane Jiraiya Cummings
and his band of Editors and Reviewers bring a daily dose of the dark stuff from the land of OZ and around the world.
Just last week, HorrorScope and
Brimestone Press
announced that they have teamed-up with the
Australian Horror Writers Association
, not only making
HorrorScope
the #1 site for all things horror related in Australia, but they are now the official news source for the AHWA. Congratulations to the great HorrorScope team!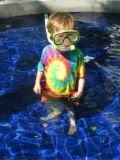 If I Only Had a Brain
I recently had the pleasure of chatting with HorrorScopes's, Andrew John, a very talented writer, musician and filmmaker from Australia. He kindly invited me to dive into the dark waters of my first online interview. AJ was a very generous and gentle guide, and you can see our conversation here:
AD John's HorrorScope Interview with Fran Friel
Being interviewed was a little scary (You know how I like that!), and I yacked on WAY too much, but I had a blast doing it. I hope you enjoy it, too!
I'm off to the
World Horror Convention
and the
HWA Stoker Awards
this week. I'll take lots of pictures and report back to you on Fran Friel's Wicked Adventure: Invading Toronto. Sound good, eh?
Hope to see you in Canada, if not...in two weeks, Same Bat Time, Same Bat Channel!
Wickedly Yours,
Fran Friel