Up for a Little Gluttony? Or is that an oxymoron? Either way...here it is!
THE LAIR
First, I'd like to share the launch of my
new website
with you! It's been in the making for a few months now and we've finally put on the finishing touches. With that said, there's still plenty more to come, so please stop by and check-out the
Latest News
,
Contests
,
Games
,
Free Art E-Cards
,
Photo Gallery
,
Videos
, tons of
Links
and more! Leave me a message at the
Guest House
, and be sure to sign-up for the
Newsletter
...you could win stuff! Thanks to the wonderful and talented
Deena Warner
for her website design!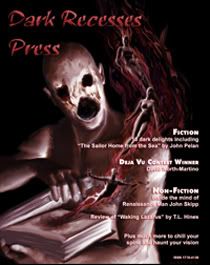 DARK RECESS PRESS - ISSUE 4
Our second bit of news is a reminder to stop by at
Dark Recesses Press for a FREE PDF download of Issue 4.
It will only be available for at the website for a couple more weeks. After that you'll find it on CD ROM at Shocklines.com.
Issue 4 is packed with excellent dark fiction, fantastic illustrations and a brilliant interview with Bestselling author, John Skipp.
www.DarkRecesses.com
INSIDIOUS REFLECTIONS - ISSUE 6
Insidious Reflections
now has national distribution, so not only will it be available at
InsidiousReflections.com
, you'll be able to find it at your local bookstores and chains around the country.
From
InsidiousReflections.com
:
"-Terror-full tales from Weston Ochse, David Niall Wilson, J.F. Gonzalez and other twisted fiends of the macabre.
"-Exclusive interviews with Bram Stoker award winning zombie master Brian Keene, Edward Lee and Wrath James White, as well as a Scream Queen that will take your breath away.
"-Articles of the horrific fantastic including Jeff Strands
Seriously Whacked Point Of View
and Jenny Orosel's
Splattering of a Nation: Life in the Midst of Uber-gore
.
"-Dark art from the industry's finest.
"-Book and Film reviews."
THE LIGHTNING JOURNAL
Editor in Chief, Mark E. Deloy brings you the latest issue of
The Lightning Journal
in it's new fancy updated website! Check-out the Dark Ficton by
AJ Brown, Lincoln Crisler, Jessica Penot, David Sowders, Michelle Fiscus, Gayle F. Arrowood, Larry Michael Garmon.
Interviews with publisher
Bailey Hunter
, Dark Recesses Press, and
RJ Cavender
, The Horror Library.
www.thelightningjournal.com
DOWN UNDER THE CELLAR

New comer ezine,
Down Under the Cellar
, is brought to you by Chief Editor, Jeff Cerone. He offers a feast of dark fiction and reviews in a sharp website format that will prove to be a haven for all the horror readers on the net. Stop by for a visit at
www.DownInTheCellar.com
! Tell him, Fran sent ya'.
THE HORROR LIBRARY

Last but certainly not least, is
The Horror Library
, my home away from home. The September feast of
Fresh Meat
has just been posted. Stop by for a taste or a full juicy meal of horror fiction, interviews, reviews and more! I still owe you
Part Three of Fine Print
, so be sure to check back later this month for the conclusion of the Three Part novella. And of course, it's all FREE!
www.HorrorLibrary.net
So there you have it, as promised, news for the horror glutton in us all. I hope you'll stop by and see me at
The Lair
, and remember to
sign-up for that newsletter
so you can win cool stuff. You'll have a chance to win EVERY month!
Thanks for reading!
Wickedly Yours,
Fran Friel