MAMA'S BOY - Ready for Pre-Order!
I'm seldom speechless but it's taken me 20 minutes to be able to write this blog. Up until this moment, I've stayed pretty cool about getting
MAMA'S BOY
published, but now I've got this strange volcanic feeling, as if I've been holding in a year's worth of excitement. I don't know what's going to happen when it all that finally comes rocketing to the surface. I suspect I'll have a good cry and/or a laughing jag of monumental proportions.
In the meantime as I wait for my emotional fireworks to erupt, I want to share with you at last, my very patient friends, that
MAMA'S BOY is ready for Pre-Order from Insidious Publications!
Ninety-Seven pages of wicked novella; an illustrated limited edition of 100 copies signed by the amazing artists,
Tom Moran
and
Zach McCain
, the brilliant
James Newman
who wrote the intro, and me.
A few kind words about MB:
"A fun, old school psych ward confessional full of blood and betrayal where you can't tell who are the inmates and who are the keepers."
--
Tom Piccirilli
, Bram Stoker Award winning author of
Headstone City
and
November Mourns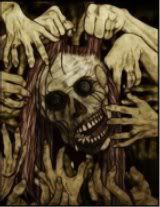 "Fran Friel's MAMA'S BOY is a gripping, disturbing, and more- than-slightly twisted debut novella. Though you may feel the need to shower with boiling water afterwards, Friel accomplishes the fine art of making you squirm--big time--without being needlessly graphic. A demented winner from a very promising new author."

--
Jeff Strand
, author of
Pressure
and
Casket For Sale (Only Used Once)
"Mama's Boy is Compelling, suspenseful, and disturbing as hell! Fran Friel has made a fan out of me!"
--
Brian Knight
, author of
King of Souls
and
Hacks
.
So there you have it kids, at last! If you'd like a copy, please pop on over to
Insidious Publications
to reserve yours today. The books will be available for shipping by the end of the month and since it's such a limited print run, we're hopeful that it will sell-out in the pre-order phase. Keep your fingers crossed for me! I'm excited and scared and damn near delirious now.
I REALLY hope you "love,"
MAMA'S BOY
. Nothing would give me greater pleasure than to hear that you enjoyed reading MB as much as I enjoyed writing it for you.
Wickedly Yours,
Fran Friel